Home

»

CTP

»

B-HPA Battery Powered Headphone Amplifier
B-HPA Battery Powered Headphone Mono or Stereo Amplifier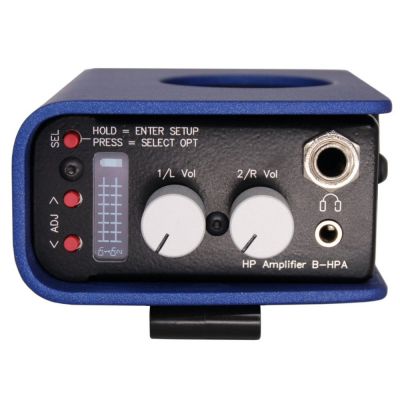 Product Features
MPN: B-HPA
The B-HPA is a two input mono/stereo headphone amplifier in a compact aluminium beltpack enclosure.
Inputs may routed to either earpiece so the unit may be configured with stereo or dual mono inputs.
Programming the B-HPA is simple using the OLED display which also shows line input levels during normal operation.
The following features are programmable:
• Input routing stereo/mono
• Channel1/channel2 headphone limiting low/medium/high
Power requirements are a PP3 size 9V battery (alkaline recommended) or a 9-16 volt external DC supply.
Share this page
Delivery Estimates
EU Company VAT registered?
We'll verify your Showcomms account so you can shop tax free
Buying with us is safe & secure
Buying with us is safe and secure, using trusted payment options