Home

»

CTP

»

PB2020 Presenter Mic Amp with Lazy output and Listen Box
PB2020 Presenter Mic Amp with Lazy output and Listen Box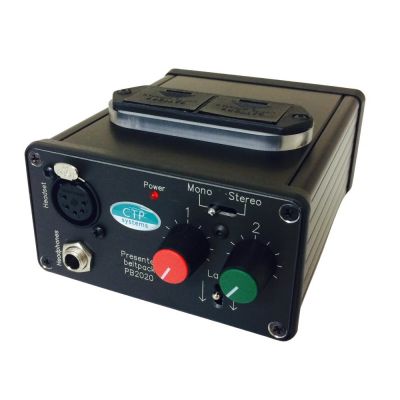 Product Features
MPN: PB2020
Battery operated remote Presenter's Box provides allthe audio feeds to and from a presenter required for commuicatioon and prog out.
Samml enough to go under a desk or behind a chair the PB2020 incorporates a high quality, low noise microphone amplifier.
48 volt phantom power is available and switchable.
Mic amp gain may be selected in 5dB steps from 15dB to 70dB gain.
On keying the front panel 'lazy' key, the presenter's microphone will be silently diverted from programme sound to the unit's 'lazy talkback' output.
Two XLR headphone/earpiece inputs are provided and may be switched to individual or both earpieces. The headphone socket will operate with either 'A' or 'B' gauge jack sockets.
Headset support on 5 pin XLR.
The unit has a belt clip which may be removed if required.
The PB2020 is powered by 2 * PP3 size batteries. When switched on, the power LED will illuminate and when there is approximately one hour's life left in the batteries the power LED will start to flash. When the batteries are dead - no light!
Battery life 12 hours+ using alkaline batteries without phantom. Less with! (depends on microphone in use).
Share this page
Delivery Estimates
EU Company VAT registered?
We'll verify your Showcomms account so you can shop tax free
Buying with us is safe & secure
Buying with us is safe and secure, using trusted payment options