Home

»

Eartec

»

Eartec Simultalk 24 Wireless Beltpack (REMOTE)
Eartec Simultalk 24 Wireless Beltpack (REMOTE)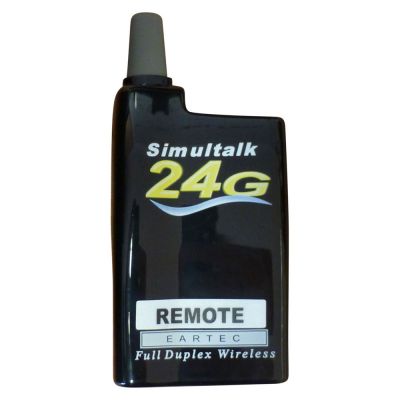 Product Features
MPN: SLT24R
Additional or replacement Eartec SLT24R Simultalk 24G wirless beltpack.
Remote version.
Headset not included.
CE certified for Europe, Australia and the UK
Chargers available for different AC power voltages (US, European or Australian)
Full Duplex (2-Way System)
Simultaneous Talk
Operates in the 2.4 GHz frequency range
Licence Free.
Range: up to 150 yards
Battery Features:

Fully charged battery lasts: up to 4.5 hours (full duplex mode) / up to 8 hours switching to standby mode periodically

10 hours to gain a full charge

NiMH 700mAh / 4.8 V

Share this page
Delivery Estimates
EU Company VAT registered?
We'll verify your Showcomms account so you can shop tax free
Buying with us is safe & secure
Buying with us is safe and secure, using trusted payment options