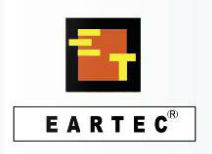 The Eartec Ultralite system is an ideal Licence Free wireless communications system for Schools, Colleges and Amateur Dramatic Societies were available funds are limited. Eartec Ultralite is certified to meet new EU directive 2014/53/EU introduced on 12th June 2017.
This version of Ultralite is without a Mini-Hub and is standalone. There is no input or output connection to another system. If you need connection to wired comms please see the Hub version. Up to 4 headsets can be used in Standalone mode ( 1 x master and 3 x Remotes).
Ultralite headsets do not require a beltpack. The wireless transmission module is incorporated into the headset The Standalone version without a hub is the more cost effective solution to purchase a wireless system. If a hub is required later the system can be upgraded. All of the remote headsets can be used with a Hub. Only the master headset is not compatible with a hub.
The Ultralite system has a fixed level noise gate on each headset's microphone and the headsets are VOX operated.