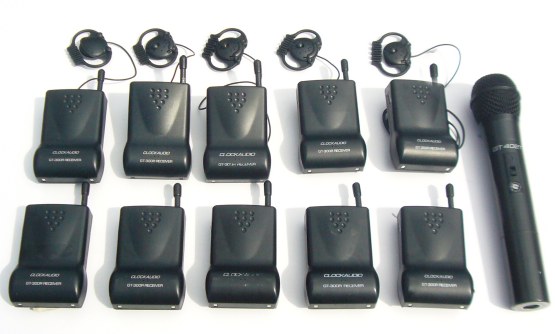 FLEXIBLE
The ClockAudio/Stageline Tour guide systems can be purchased as complete packages in multiples of 10 or individually supplied to suit your requirement.
LICENCE FREE
PRACTICAL the receiver can be used with almost any earpiece, ear defender or personal induction loop with a receive range up to 50 metres.
It is also possible to plug external devices such as an MP3 player to the GT-300T enabling pre-recorded messages to be transmitted.
MULTI LANGUAGE There are 16 available channels of which up to 5 can be used on independent channels in the same vicinityCUSTOMERS of this guided tour system include:
BAE Systems, Cadbury Trebor Bassett, Coca Cola Enterprises, Cutts Recycling, DelaRue, James Cropper PLC, Richard Keenan Systems, Storaenso, Stryker, ThyssenKrupp, UCKG and Yamazaki.
TRY BEFORE YOU BUY: Hire a 10 way system from us and we will deduct the cost of the hire from your purchase. (4 day hire/10 way system maximum)