Home

»

Wireless Tour Guide Receiver with headset earpiece
Wireless Tour Guide Receiver with headset earpiece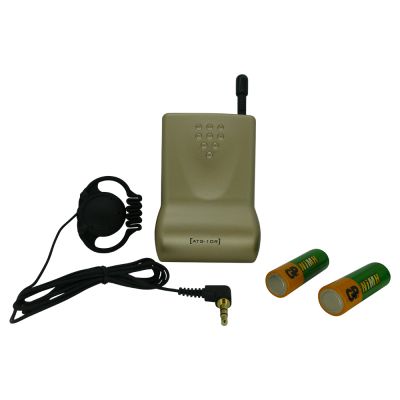 Product Features
EAN: 4007754175509
MPN: ATS-10RX
Showcomms Wireless Beltpack receiver Gold colour.
Ideal VIP factory tour guide earpiece rechargeable receiver.
Supplied with 2 rechargeable batteries
Also works on standard AA batteries.
The receiver has a built in speaker that is disconnected once a headset is plugged in. Almost any headset or earpiece with a 3.5mm jack can be used with the receiver. A volume control on the side of the receiver controls the listen level.
Licence Free
SPECIFICATIONS:
Audio Level = 0dBv
Battery life = 9 hrs typical with 1300mAh NiMH batteries supplied
Battery life with Alkaline AA batteries = 16 hrs typical
Dimensions = 92mm x 65mm x 25mm
Weight = 130g
This receiver can be used with headphones, ear defenders or an induction loop that will drive a Hearing aid device set to "T".
Please call or email for further details.
Share this page
Related Products
Delivery Estimates
EU Company VAT registered?
We'll verify your Showcomms account so you can shop tax free
Buying with us is safe & secure
Buying with us is safe and secure, using trusted payment options