Home

»

ew 300 G4-ME2-RC-GBW Wireless Lavalier Set (606 - 678 MHz)
ew 300 G4-ME2-RC-GBW Wireless Lavalier Set (606 - 678 MHz)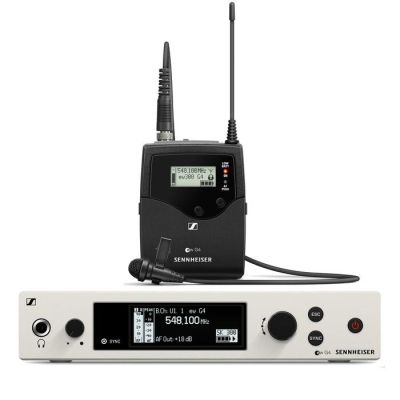 Product Features
MPN: 507672
Sennheiser EW 300 G4-ME2-RC-GBW wireless lavalier set.
Integrated network port allows control, monitoring and setup via Sennheiser Control Cockpit and WSM Software

Up to 88 MHz bandwidth, up to 32 channels

Increased RF output power (10/30/50 mW)

Transmission Range: up to 100 meters / 330 feet

Compatible with wireless speaker system LSP 500 PRO

RC (remote control) switch available for the bodypack transmitter
Frequency range:GBW (606 MHz to 678 MHz)
Includes:
(1) SK 300 G4-RC bodypack transmitter with remote control
(1) ME 2-II lavalier microphone (omnidirectional, condenser),
(1) EM 300-500 G4 rackmount receiver and
(1) GA3 rack kit, frequency range.
Share this page
Delivery Estimates
EU Company VAT registered?
We'll verify your Showcomms account so you can shop tax free
Buying with us is safe & secure
Buying with us is safe and secure, using trusted payment options