Home

»

Superlux

»

Superlux CS-101 Compact User Station with Loud speaker
Superlux CS-101 Remote User Station or Masterstation (Tecpro compatible )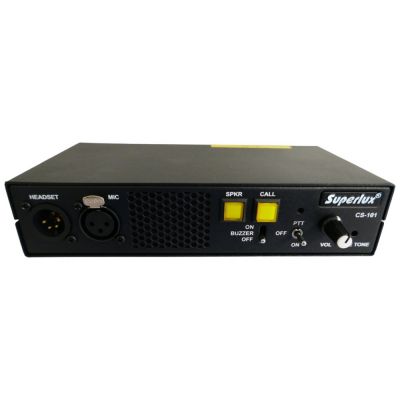 Product Features
MPN: CS-101
The Superlux CS-101 Loudspeaker User station with PS101 power supply.
The system can power up to 3 more beltpacks with headsets.
The PS101 and CS101 main station provides all the necessary and important intercom functions and connectors.
The CS101's built-in speaker can be switched off or on. An extra line out is available for connecting to an external speaker.
Te PS101 will power up to 4 x Superlux BP101 beltpacks or Clearcom compatible beltpacks.
Share this page
Related Products
Delivery Estimates
Buying with us is safe & secure
Buying with us is safe and secure, using trusted payment options