Home

»

Motorola Tetra curly tube earpiece MTH800 MTP850 CEP400
Centurion MTH800 Kevlar 2 Wire Earpiece and Large front facing PTT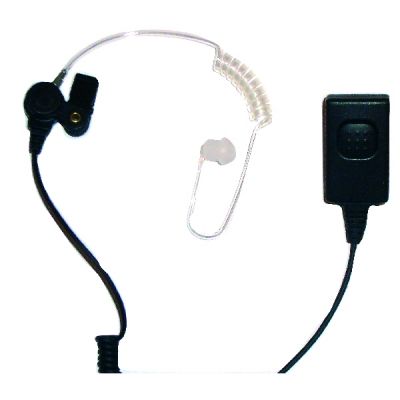 Product Features
MPN: Centurion-F
Our Centurion 2 wire covert headset is made with kevlar reinforced cable and will withstand a breaking force of up to 20kg at the connector strain relief.

LARGE FRONT FACING PTT
The shape of the PTT has been developed in response to the request for a larger, front facing PTT. This gives it 2 distinct advantages
It is easier to locate with gloves on
It can't be accidently operated by body armour or kit knocking against it.
The switch is tested to 2 million presses.
HIGH NOISE MICROPHONE
The Microphone is suitable for High noise environments and is worn a hand's distance from the mouth on the chest. The cable is made with Kevlar reinforcement.
Fitted with secured plug for the side connector on Motorola MTH650 MTH800 MTP850 CEP400
The Centurion headset was previously only available in the USA for the law enforcement.
A coiled section of cable just after the radio connector acts as a damper should your radio fall or be accidentally dropped and allows unbroken radio contact in the rest room without the need to remove the radio!
The earpiece attaches to a collar and is worn in the ear in the same way by TV presenters and Security services operatives.



1 year NO QUIBBLE warranty


If your Centurion headset should get broken and you return it to us within 1 year of purchase we will replace it with a new headset.


SPECIFICATIONS
PTT block Dimension 45mm x 25mm - switch is 25mm x 25mm
Transducer diameter = 16mm
Cable = 5.0mm diameter from plug to joiner. Length 340mm with 110mm coiled section
Cable to ear and PTT/mic diameter = 3.0mm
Length from Joiner to ear transducer = 355mm (14") with 60mm coiled section
Length from Joiner to PTT block = 890mm (35")

For extra comfort a Skeleton earpiece can be used to replace the eartip on the end of the earpiece.
Share this page
Related Products
Delivery Estimates
Warranty Information

Showcomms headset models BG, Centurion, CPO, MSG, Sentinel, TC4 and Tracker have a no quibble 1 year warranty
Your headset will be replaced upon it's return to us.
RETURNS POLICY
Items sold to individuals are covered by the remote selling regulations.
Items sold to a business (B2B) or indicated as being sold to a business are not covered by the remote selling regulations.

RETURNS PROCEDURE FREEPOST RETURN UK
In order to return an item in the UK please call us on 01689 876620 with your details and if possible quote your original invoice number.
We will give you a return number. You must put your return number on the package you are returning.
For warranty returns or items being returned under our no quibble warranty we will give you our FREEPOST return address to send the item to us.


FREEPOST EUROPE
for items under 250g from some countries in Europe
For returns of our headsets under warranty from Europe please call 44 1689 876620 and we will send you the correct return label for your country where this service is available.
Large, heavy or valuable items cannot be set by Freepost and must be returned by the customer at their cost by courier or special delivery.
Items are returned at the purchaser's cost from countries not covered by this service.
Buying with us is safe & secure
Buying with us is safe and secure, using trusted payment options