Home

»

Motorola MTP850S MTP6550 Tetra 1 wire headset Ear Hanger Speaker
Motorola MTP850S MTP6550 1 Wire Headset - 1 year warranty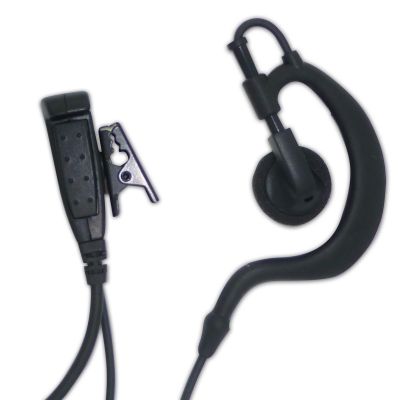 Product Features
MPN: MSG-1W-M7
Motorola Tetra MTP850S.
1 wire radio headset with PTT mic switch and adjustable D hanger ear speaker.

FEATURES
PTT mic.
Mic clip for lapel or covert, inside a shirt / jacket sleeve
Ear phone speaker with adjustable ear hanger.
Cable lengths:
27 inches (70cm) connector to PTT
24 inches (60cm) PTT/mic unit to Transducer with coil section
10cm from ear hanger 10cm long and 6.00mm diameter
Speaker diameter = 16mm
Cable = 2.5mm diameter to PTT mic and 1.8mm diameter to ear hanger.
PTT OPERATION
Ideal for use with Security, Surveillance, VIP Escort etc
Ideal for door work but the mic is not suitable for very loud PA music environments.
Share this page
Delivery Estimates
Warranty Information

Showcomms headset models BG, Centurion, CPO, MSG, Sentinel, TC4 and Tracker have a no quibble 1 year warranty
Your headset will be replaced upon it's return to us.
RETURNS POLICY
Items sold to individuals are covered by the remote selling regulations.
Items sold to a business (B2B) or indicated as being sold to a business are not covered by the remote selling regulations.

RETURNS PROCEDURE FREEPOST RETURN UK
In order to return an item in the UK please call us on 01689 876620 with your details and if possible quote your original invoice number.
We will give you a return number. You must put your return number on the package you are returning.
For warranty returns or items being returned under our no quibble warranty we will give you our FREEPOST return address to send the item to us.


FREEPOST EUROPE
for items under 250g from some countries in Europe
For returns of our headsets under warranty from Europe please call 44 1689 876620 and we will send you the correct return label for your country where this service is available.
Large, heavy or valuable items cannot be set by Freepost and must be returned by the customer at their cost by courier or special delivery.
Items are returned at the purchaser's cost from countries not covered by this service.
EU Company VAT registered?
We'll verify your Showcomms account so you can shop tax free
Buying with us is safe & secure
Buying with us is safe and secure, using trusted payment options