Home

»

Altair

»

Altair PS200 Theatre Intercom Power Supply
Altair PS200 Theatre Intercom Belt-pack Power Supply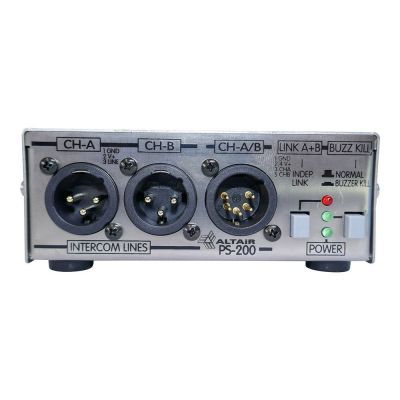 Product Features
MPN: 5134
Altair PS200 Theatre Intercom Power Supply with channel A and channel B 3 pin XLR outputs.
This A and B links can be linked toprovide a single beltpack channel using the front panel link switch.
In dual channel mode a third XLR5 output socket facilitates a dual channel using a single XLR5 cable
The PS-200 will power up to maximum of 60 cable intercom devices.
An optional Rack mount kit is available as an accessory.
In comparison to the PS751 from Tecpro you get more for your buck (A+B channels) however there are only 2 XLR outputs (when linked is switched) on the PS-200 as opposed to 4 on the PS-751.
Share this page
Delivery Estimates
Buying with us is safe & secure
Buying with us is safe and secure, using trusted payment options