Home

»

SENA MeshPort Blue for General Bluetooth Headsets
SENA MeshPort Blue for general Bluetooth Headsets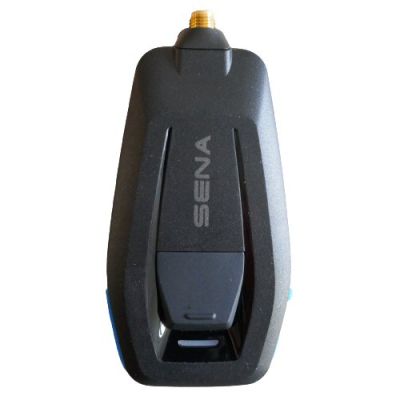 Product Features
SENA MeshPort Blue
Lightweight Handsfree Intercom adapter for General Bluetooth Headsets supporting Bluetooth 4.1.
MeshPort Blue is designed for use with one headset and has a range of .8 km (.5 miles). MeshPort Blue is idea for industrial settings wanting to retrofit existing headset inventory or to let individuals use their own headsets for communication on the workfloor or worksite with crystal clear clarity.
Talk time is up to 8 hours with standby time of 250 hours. Charge time 2 hours. LiPOl battery 3.8V 1200mA.
USB charging.

Mesh Intercom capabilities (Open Mesh) can extend the range up to 3 km (1.9 miles) between a minimum of 6 users on one channel. And, channels can be adjusted 1 to 9 in the MeshPort App to support larger teams at the worksite or on the shop floor.
RF range 2402 MHz to 2480 MHz
0.01dBm
RF Range for Zigbee (mesh) 2410 MHz to 2475 MHz
Max o/p Mesh = 14.96 dBm
Zigbee networks are secured by 128 bit symmetric encryptionkeys.
Zigbee has a defined rate of up to 250 kbit/s.
Audio Specs:

Microphone circuit is fitted with a Noise gate
Sample rate of 16kHz (wideband), 8kHz (narrowband)
Range as stated by manufacturer up to 800m. Please note not all environments will achive ideal conditions for maximium range.
SENA MESH PORT BLUE upgrades Industrial brand Blue Tooth headsets such as A-Kabel Airpods or Google Pixel Buds with Mesh Intercom capabilities.

Also available SENA MESH RED. This connects Smartphones and Tablet PCs to SENA's Mesh Intercom Network using unique Bluetooth-Mesh conversion technology.
SR10 Bluetooth gateway for Two Radios.
Zigbee is based on the IEEE's 802.15.4 personal-area network standard and is an alternative to Wi-Fi and Bluetooth.
It has been popular for use for some applications including low-powered devices that don't require a lot of bandwidth such as home automation and smart home sensors.
As with all constant transmision personal devices for saftey ithas a low pwoer output limiting distance up to 100m or line of sight.
However it ispossible with Zigbee to transmit over long distances by by passing data over amsh network of intermediate devices to reach a more distance device.
Share this page
Delivery Estimates
Buying with us is safe & secure
Buying with us is safe and secure, using trusted payment options