Home

»

Headsets

»

NEW in 2022 Light-weight Single sided headset with dynamic mic and XLR4F connector
NEW in 2022 Light-weight Single sided headset with dynamic mic and XLR4F connector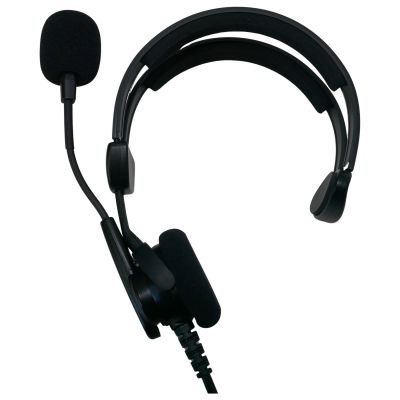 Product Features
NEW Lightweight intercom headset to replace the ASL-HS1D
Our Showcomms single headset with dynamic microphone.
The straight cable is fitted with an XLR4F connector for connection to Tecpro, Clearcom, Superlux, ASL, Altair and Stonewood intercom.
The microphone boom arm can be rotated so that the headset may be worn over either ear.
DRIVER = DC resistance of 100 ohm -120 ohm
MICROPHONE = 150 ohm Dynamic (reversible boom arm for left or right side placement).
CABLE = Straight 1.25m as standard but we can shorten this at assembly if required.
CONNECTOR = XLR4F (XLR female with 4 connections wired as follows

Pin 1 = Mic Gnd/ Screen
Pin 2 = Mic +
Pin 3 = Spk
Pin 4 = Spk
WEIGHT = 191g

COLOUR = All Black.
Share this page
Delivery Estimates
Buying with us is safe & secure
Buying with us is safe and secure, using trusted payment options