Home

»

Sepura SC20 STP8000 STP9000 series Covert headset with 3.5mm listen socket
TC4 Sepura SC20 STP8038 and STP9038 3 wire kevlar surveillance headset 3.5mm socket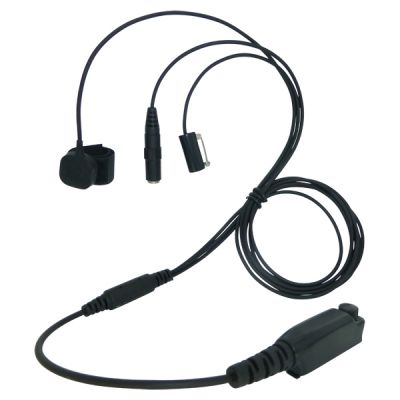 Product Features
MPN: TC4-SP3-Jack
TC4 Covert headset for Sepura SC20
STP8000 series (STP8038, STP8100, STP8200)
and STP9000 series radios.

3 Wire covert or overt Headset with 3.5mm socket that you can be used with Iphone and Walkman earphones.
Connect a wide range of listen accessories to the TC4's 3.5mm listen jack socket.
Walkman earphones.
Lowe ear speaker
Transducer clear tube earpiece
High Efficiency induction neck loop for any induction loop wireless earpiece
Peltor FL6H cable to connect to Peltor SportTac headset
3.5mm "stereo" jack (sound is heard in one ear only when used with a stereo jack device)
The TC4 headset from Showcomms is made to a US company specification in China and imported direct by Showcomms from the USA.
We are their only European importer of this product.
PTT
Known commonly as a ring finger PTT it is supplied with a velcro roll for fastening around the ring finger and operated by the thumb.
The velcro PTT can also be wrapped around a trouser belt loop and operated from this position.
MICROPHONE
The high quality tie clip microphone is fitted with a low profile pin clip and is worn under the shirt or upper garments.
The Mic and the PTT each have 36" / 91cm long, thin cable so the unit can be fitted comfortably and hidden as required.
Our TC4 Covert surveillance headset has a 1 YEAR NO QUIBBLE WARRANTY with UK Free Post Free Post and European Airmail small packet return from most European addresses.
Share this page
Related Products
Delivery Estimates
Warranty Information

Showcomms headset models BG, Centurion, CPO, MSG, Sentinel, TC4 and Tracker have a no quibble 1 year warranty
Your headset will be replaced upon it's return to us.
RETURNS POLICY
Items sold to individuals are covered by the remote selling regulations.
Items sold to a business (B2B) or indicated as being sold to a business are not covered by the remote selling regulations.

RETURNS PROCEDURE FREEPOST RETURN UK
In order to return an item in the UK please call us on 01689 876620 with your details and if possible quote your original invoice number.
We will give you a return number. You must put your return number on the package you are returning.
For warranty returns or items being returned under our no quibble warranty we will give you our FREEPOST return address to send the item to us.


FREEPOST EUROPE
for items under 250g from some countries in Europe
For returns of our headsets under warranty from Europe please call 44 1689 876620 and we will send you the correct return label for your country where this service is available.
Large, heavy or valuable items cannot be set by Freepost and must be returned by the customer at their cost by courier or special delivery.
Items are returned at the purchaser's cost from countries not covered by this service.
product code
TC4-SP3-JACK
Buying with us is safe & secure
Buying with us is safe and secure, using trusted payment options