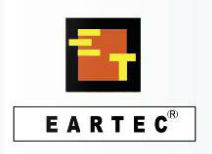 The Eartec Ultralite system is an ideal Licence Free wireless communications system for Schools, Colleges or Amateur Dramatic Socities operating to a tight budget. Eartec Ultralite is certified to meet new EU directive 2014/53/EU introduced on 12th June 2017.

Ultralite may be used with or without a battery/mains operated Hub. This version with a Hub provides an extra facility to connect via wire to an Eartec interface box. There are several models of the interface box available each enable connection of your wireless headsets to different wired theatre belt pack communication systems. The common encountered wired systems being Tecpro, ASL, Clearcom and RTS.
When using the Ultralite System it is possible to use a combination of single and double sided headsets. The headsets are all remote model headsets. A maximum of 6 headsets can be used. The Mini-Hub can be used a beltpack with a cabled headset to become an 7th user when operated by battery.

Ultralite headsets are beltpack free as their wireless transmission module is incorporated into the headset.

The Ultralite system has a fixed level noise gate on each headset's microphone and are VOX operated.