Home

»

Cassidian BG-THR 9 1 wire earpiece & microphone
Cassidian BG THR9 1 wire earpiece and microphone with Kevlar cable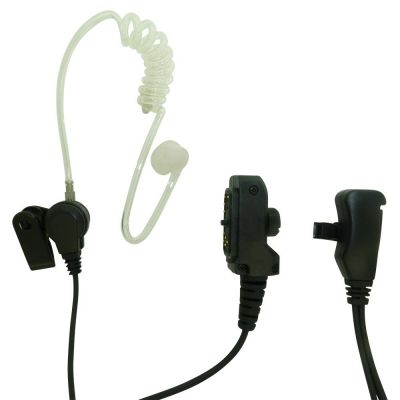 Product Features
MPN: BG-THR9
BG-THR9 1 wire headset for the Cassidian THR9 THR9i Tetrapol radio.
We have sold over 3000 of our BG headsets to police and security services and personnel.
1 year no quibble warranty with Freepost return address for UK & NI & most EU sales
FEATURES
PTT mic.
Mic clip for lapel or covert, inside a shirt
Curly wurly earpiece with clip.
The earpiece attaches to a collar and is worn in the ear in the same way by TV presenters and Security services operatives.
Cable lengths:
3ft (36inches)(91.5cm) connector to PTT
2 ft (24 inches)(61cm) PTT/mic unit to Transducer
Transducer diameter = 16mm.
Cable = 2.5mm diameter.
Rear Connector to fit radio

.
Earpiece Fitting Instructions
Clear acoustic tube earpiece. Adjust tube length with scissors to reduce spare tube over the ear. The ear tip and it's fitting can be removed and refitted whilst adjustment is made. (Please do not use the scissors whilst the earpiece is still in your ear!)
The earpiece can be worn in the Left or Right ear by a simple swivel of the eartip and it's plastic fixture.
Share this page
Related Products
Delivery Estimates
Buying with us is safe & secure
Buying with us is safe and secure, using trusted payment options