Home

»

Wired Theatre Stage Technicians Intercom Value Starter System for 4 users
TSS-1 Wired Theatre and College Intercom Starter Communication System 1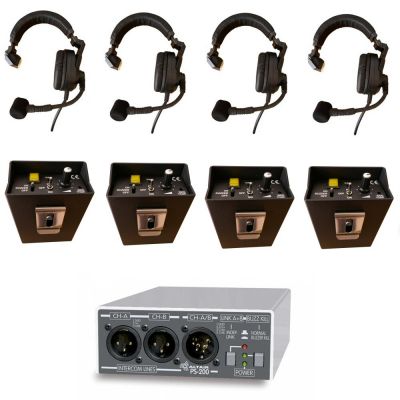 Product Features
MPN: TSS-1
Priced at £960 including VAT this is our best value 4 user Theatre stage wired communication starter system that additional beltpacks can be added to in the future.

This intercom package will get you up and running on budget in most Theatres, Schools and Colleges.
It is simple to use and will provide a solid foundation upon which you can build up and add to your system.
All you will require is some XLR 3pin cable (standard microphone cable).

4 Beltpacks is a good starting block for most small theatres. Stage Manager, Sound, Front of house and lighting for example.
Should you require any additional users it is easy to hire in additional equipment from us at minimal cost.
A wired intercom system is the first building block upon which any backstage commnuications system can be built upon and grow.
Wired will always work and not let you down. With a starter kit it is possible to then add more beltpacks or even interface a wireless beltpack or showcaller radio system.
Please call 01689 876620 and we will be pleased to offer you further information, technical advce or assistance in designing your intercom system.
The system comprises:
4 x Superlux BP101 metal beltpacks

4 x Superlux Single Sided Dynamic Headsts
1 x Altair PS200 power supplywhich will power 50+ belt packs.
If you are a school or college we are able to accept local authority purchase orders with prior contact.
We may already be listed on your local authority supplier systems

Price does not include XLR cables.
Share this page
Related Products
Delivery Estimates
Buying with us is safe & secure
Buying with us is safe and secure, using trusted payment options